FASTEN YOUR SEATBELT,
THE JOURNEY IS ABOUT TO START!
For 5 editions, The Journey has found sustainable solutions for the tourism sector. This open innovation program brings together worldwide startups with corporate partners to solve the most pressing industry challenges.
For its 6th edition, it is going a step greener: helping create more sustainable and efficient airports.
The Journey is an open innovation program by Beta-i supported by Turismo de Portugal, bringing together startups and industry stakeholders to foster innovation and sustainable practices in the sector.
Airport efficiency and sustainability are at the centre of The Journey 6th edition. Startups will have the opportunity to pilot solutions with industry leaders.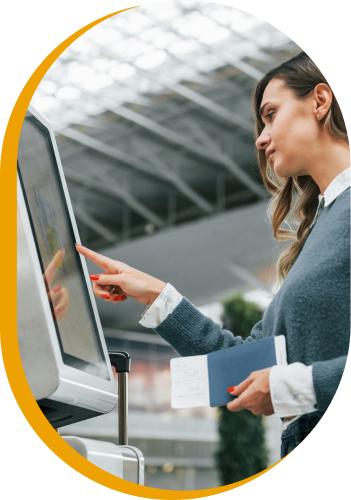 ARE YOU UP FOR A CHALLENGE?
This year, we will challenge you to focus on how to make airports more sustainable.
Their affairs must be transformed by focusing on:
COMMUTE TO/ FROM THE AIRPORT
Improve the inbound and outbound journey of customers, goods and services to and from the airport. (sustainably)
DATA-DRIVEN AIRPORTS
Aim to comprehend the entire airport affair in terms of data. Collect valuable information to improve the traveller's experience, optimise the use of the facilities, and reduce the carbon footprint of it all.
INFRASTRUCTURE EFFICIENCY
Achieve optimal use of infrastructural resources by allowing for a smoother, faster passenger transit through the airport.
VIRTUAL AIRPORTS
Offer technological innovation for the digitalization of experiences, adding to the whole airport experience while reducing its environmental impact.
GREENER AIRPORT FACILITIES
Balance the environmental impact of airports by proposing technologies/solutions for a better use of airport resources and optimal processes.
WHO WE WANT
We are looking for 20 unique startups that are:
Based in Portugal or with the goal of piloting in the Portuguese market.
Startups with a defined project or product (MVP) already established with certain market traction.
Ready-to-test companies, or with the flexibility to create and carry out pilot projects.
WHY YOU SHOULD JOIN THE JOURNEY
This journey can take you on a fast ride for growth. Take the opportunity to:
Co-develop pilot projects and test your solution
Scale your business by partnering with the corporate partners
Connect with the right experts
Scouting & Selection
Dec 4 to 19 Jan
Pilot Development
6 weeks
Feb to Apr
Dec 4 - 19
January 01, 2021
12:00 AM
Fev 7 & 8
January 01, 2021
12:00 AM
Mar 12 & 13
January 01, 2021
12:00 AM
6 weeks
Feb to Apr
January 01, 2021
12:00 AM
Apr 23
January 01, 2021
12:00 AM
We're no travel agency, but we sure can assist you with the JOURNEY!
Remember no question is too small. Ask away and we'll get back to you as soon as possible.